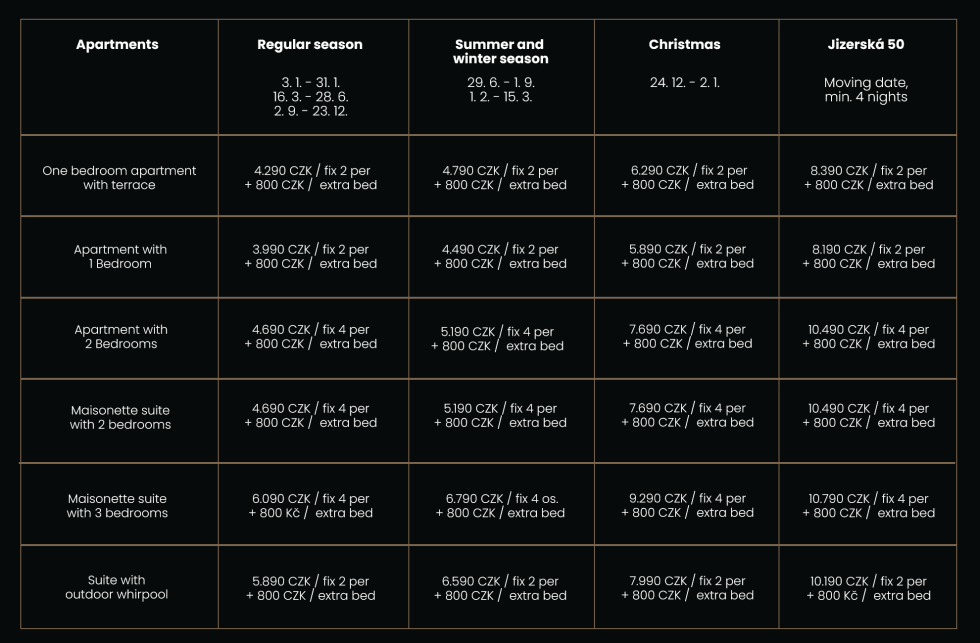 Weekend stays: the price per night Friday or Saturday is increased by 500 CZK/night.
Price list of hotel rooms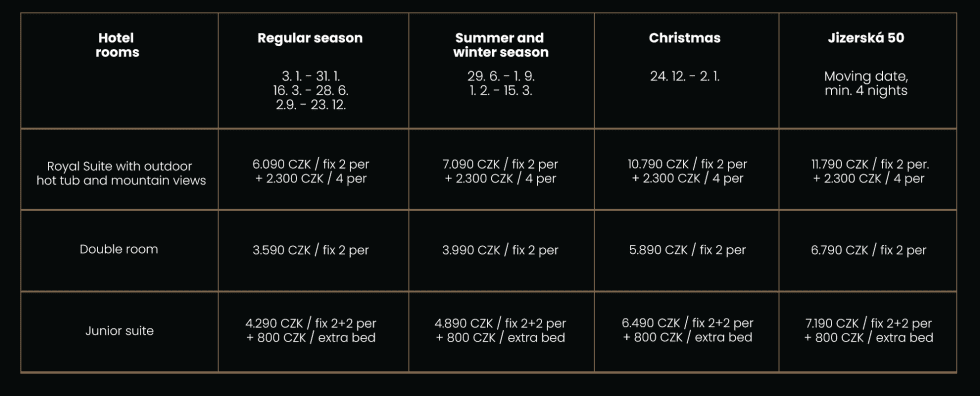 Weekend stays: the price per night Friday or Saturday is increased by 500 CZK/night.
Buffet breakfast, served in the restaurant from 8:00 to 9:30 AM.
Parking, 15% VAT, energy, water, waste removal, final cleaning, WIFI connection, linen, towels.
Pet charge: CZK 500 per night
Extra charge for 1-night stay = CZK 200 per night and person
A one-night stay is only possible if the room is vacant on the given day.
We do not accept one-night stays in the main season (summer, winter), on weekends and public holidays.
50% of the total price, payable within a week as confirmation of the booking reservation, by wire transfer to a bank account. By making the advance payment, the guest accepts the payment terms and conditions.
SETTLEMENT OF ACCOMMODATION COSTS
The tourist fee of CZK 21 per person and night will be charged upon arrival at the reception desk.
The total amount shall be settled in cash or by card on the accommodation start date. We accept Visa and MasterCard cards. An ATM is available in the town. In case of an earlier termination of their stay (not due to circumstances on the side of the hotel), the guest shall not be entitled to a refund. Gift vouchers cannot be redeemed or exchanged for cash, and any outstanding amounts cannot be paid out in cash.
At least 31 days before arrival: no fee At most 31 days before arrival: 50% of the total amount, i.e., 100% of the advance payment. During the Christmas holidays (24 December to 2 January ), we charge 50% of the total amount after the booking confirmation; this amount is non-refundable! Note: we recommend the guests getting an extra insurance of the trip cancellation with their insurance company.
DISCOUNTS FOR CHILDREN
Children under 3 years of age - free of charge
Children's bed including linen / CZK 200 per stay
LOST CARD
If the card is lost, we charge
an extra charge of CZK 200 per card
NOTE
The room and suite prices in certain periods of time are always calculated from the basic prices specified for this period (see the price list - table).