Královka (Königshöhe in German) is one of the best-known stone lookout towers in the Jizera Mountains, located on the Nekras Mountain (859 m), less than a kilometre from Bedřichov. In favourable weather, it offers a beautiful view of the Jizera Mountains, Krkonoše Mountains, Bohemian Paradise, Poland, Germany and Ještěd.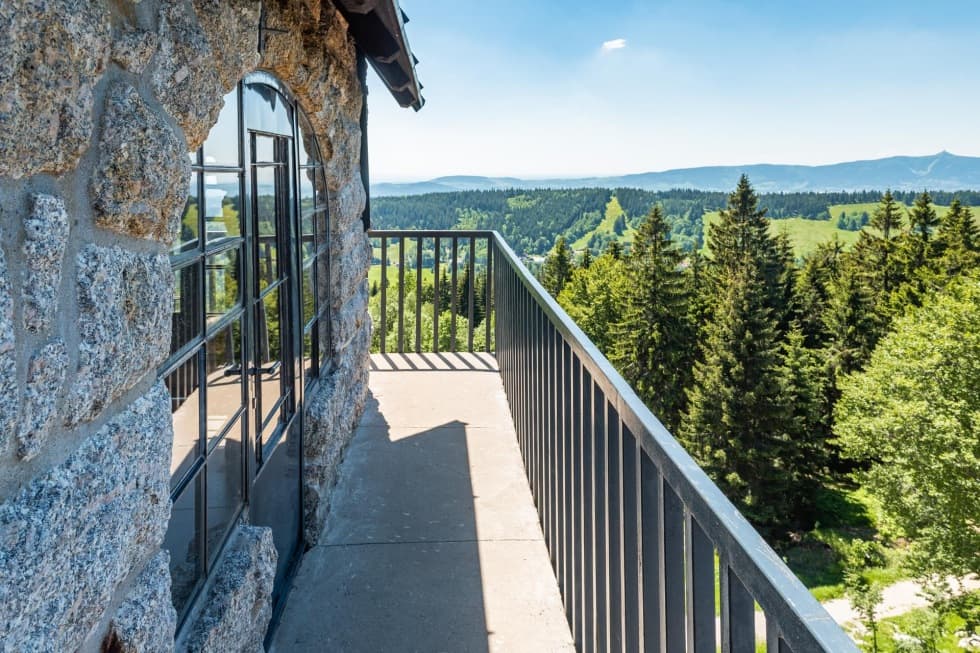 History of the Lookout Tower
The tower and the rise were earlier called the König's lookout or Nekras. The tower was built in 1907, its total height is 23.5 metres, and the outlook platform is 20.5 metres tall with 102 steps leading to it. It replaced the original wooden tower which stood at a peak in the period from 1888 to 1906. A mountain chalet with a restaurant with accommodation were built next to the tower in 1934. In the years to come, several ugly "tumours" were added to the main building and the entire area including the tower soon fell into disrepair under the management of various leaseholders.

In 2013, the entire grounds were acquired by KISSES s.r.o., which started the general revitalisation efforts. The nonconforming buildings were demolished, reconstruction of the main (original) building began and a new, modern self-service restaurant with a terrace was established where we serve delicious dishes made by our renowned chef. The lookout tower itself got a completely new coat – the stone tower casing was repaired, the new gallery connecting three sides was installed, the roof was reconstructed and the antennas were demounted and relocated to a better place. Stairways and interior areas of the tower were also repaired.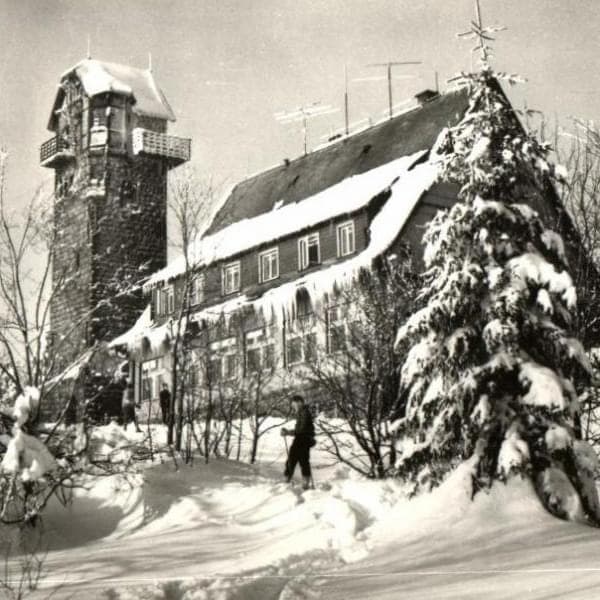 The Lookout Tower and us
The lookout tower is open throughout the year as long as the weather is favorable. We recommend taking advantage of getting accommodated directly in our hotel rooms or suites – not only in the colder months, when you can warm up in our SPA & WELLNESS after a hike. It would be a pity to visit Královka only for one day – in addition to the beautiful mountain landscape that you can enjoy not only from our lookout tower, we offer a lot of other interesting activities designed for visitors of all ages. Come and enjoy perfect relaxation and top-class services; your children will also be excited about the large playground located next to the terrace of our restaurant.
Adults: CZK 50
Children: CZK 35
You can buy the ticket in the stand with refreshments, including the tourists' marks (Královka, Bedřichov) and tourists' business cards (Královka, Bedřichov, Josefův Důl, Černá Nisa, Hrabětice- Severák, Jizerská magistrála trail)